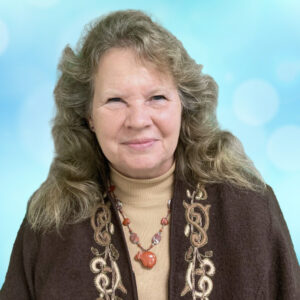 Julie Yaekel-Black Elk
Outpatient Mental Health Professional LPCC-MN & LPC-WI
Year Joined: 2021
Years of Experience: 42
Education
Southwestern Illinois College (BAC) & University of Wisconsin-Superior - AAS-Administration Of Justice, 400hr-Police Academy, & BS-Psychology
University of Minnesota-Duluth - MA-Community Counseling & MA School Counseling
University of Minnesota-Twin Cities - PhD-Counseling Student Personnel Psychology
Certification
Trauma Focused-CBT, Domestic Abuse Intervention Counselor-Men's/Women's Counselor, Veterans/Police Officer PTSD Counseling, CSDT Therapist, Cultural Counseling
Areas of Experience
Abuse (Sexual, Physical, Verbal)
Addictions
Adjustment Disorder
Anger Issues
Anxiety - General
Attachment Disorders
Caregiver Stress
Chronic Pain
Cognitive Behavioral Therapy (CBT)
College-Aged and Student Issues
Conflict Resolution Skills
Court-Ordered Therapy
Cultural Issues
Depression
Divorce
Domestic Violence
Family of Origin
Fertility or Infertility
Gambling Addiction
Grief & Loss
Guilt & Shame
Life Transitions
Marriage & Couples Therapy
Obsessive Compulsive Disorder (OCD)
Panic Disorder
Parenting
Perpetrators of Crime or Abuse
Personality Disorders
Post-Traumatic Stress Disorder (PTSD)
Relationship Issues
Self-Esteem
Self-Identity
Social Anxiety
Special Assessments
Spirituality
Stress Management
Work Issues
More About Julie Yaekel-Black Elk
Clinical Interests:
My clinical interests are assisting individuals and communities return to a pre-trauma state while simultaneously recognizing the strengths and skills that they have acquired through their experience of loss, grief and pain. Clinical individual and group populations that I have had a great deal of experience with in this area have been: veterans, police officers, domestic abuse perpetrators and survivors. Community based services have included both current and historical trauma as well as addressing the impact and healing from both; natural/unnatural events and disasters.
Clinical Approach:
Meaning Making is an important step in the process of moving past experiences of trauma and loss and to assist individuals make sense of that which seems senseless. I believe it is essential to an individuals sense of well-being to treat the entire person. Therefore, I often incorporate a Constructivist Self-Developmental Theoretic approach. This has a cognitive/behavioral emphasis which focuses on an individual's beliefs about their relationship with themselves and others. To explore and recreate connections assist individuals and communities feel whole again.
Hobbies:
When I can incorporate family and community, with my love for the outdoors: fishing, canoeing, camping and hiking in the woods I am happiest. I do enjoy some sole activities, weather permitting in Minnesota, I also enjoy riding my Harley, gardening and working on carpentry projects.