Come Work at Our Andover Clinic
We are a small close group here in Andover. Our admin and clinical staff work collaboratively. Everyone jumps in to support one another. Anniversaries, birthdays and life events are shared warmly. Laughter is often heard in the hallways and break room. We are a cohesive team that strives to provide the best patient care and supportive work environment for employees. Lastly, our potlucks and parties are not to be missed!
---
Nystrom & Associates is a group of professional care providers from the fields of psychiatry, psychology, clinical social work, marriage and family therapy, substance use treatment, nutrition, and nursing who are committed to helping individuals and families that are experiencing personal, emotional, marital, or psychological challenges.
Ask any mental health provider why they joined the field; the answer is always the same. They want to make a positive difference in the lives of people in their community! Whether they are a case manager or a psychiatrist, each clinical role here at Nystrom is invaluable in bringing life-changing behavioral health services to our many clients.
Nystrom encourages work/life balance and allows clinicians to create schedules that work best for them. Nystrom also offers additional opportunities to receive support, whether through attending our optional consult groups or joining a confidential staff support group where staff members can receive support for various reasons.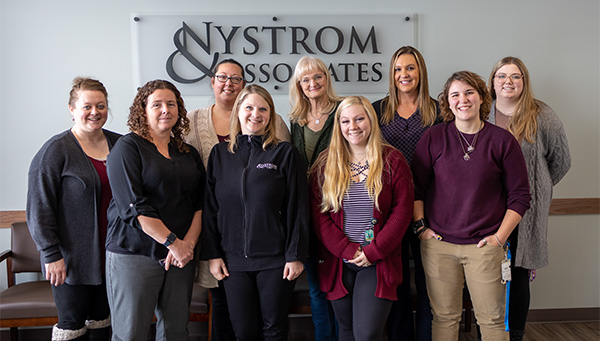 Office Hours
7:00am – 5:30pm
Monday – Thursday
7:00am – 5:00pm
Friday
Closed
Saturday & Sunday