About Nystrom & Associates
We're a group of professional care providers from the fields of psychiatry, psychology, marriage and family therapy, clinical social work, addiction treatment, and nursing who are committed to helping individuals and families that are experiencing personal, emotional, marital, or psychological challenges. We are all about helping!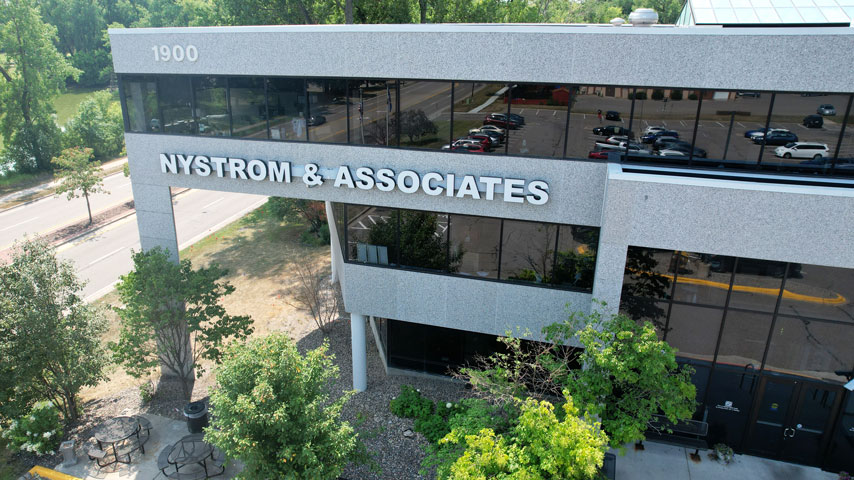 We operate on the premise that truly effective living involves a balanced integration of all aspects of our lives including emotional, relational, cognitive, physical, and spiritual. When one experiences difficulty in one of these areas confidential and sensitive mental health care can assist in the healing process.
Nystrom & Associates was founded in 1991 to provide quality care to those in need. We live by the mantra that quality, access, and convenience are the three pillars to a successful outcome for you.
Quality:
Our employees are passionate about serving others and have a strong desire to work in the behavioral health and addiction treatment fields. We regularly review cases in a multidisciplinary team setting to ensure diagnostic and treatment planning accuracy. This helps ensure that we give you the best possible care. We also hold regular educational trainings to help ensure our providers stay on the cutting edge of their respective areas of treatment.
In Minnesota we meet the highly rigorous requirements of quality set by the State of Minnesota as a licensed Statute 245-I and Statute 245-G mental health counseling and substance use disorder services organization.
Access:
We're in network with most insurance companies. We have a scheduling team who will work with you to ensure we match you with a provider who will help you through your area(s) of concern/struggle.
Convenience:
Every community deserves to have a high quality behavioral health care provider. That's why we're continuously adding new clinics to better reach those in need of our services.
The clinical staff in Minnesota, Iowa, Wisconsin, and North Dakota are licensed professionals and/or have advanced graduate training in the mental health and/or substance use disorder field. Each provider is experienced and is committed to high standards of professional practice.
Fees
We accept most insurances. Our office staff will verify insurance benefits before a client's first visit.
A reduced rate for uninsured private pay patients is available.
Nobody will be denied access to services due to inability to pay. There is a discounted/sliding fee schedule available based on family size and income.
Hours and Availability
We offer services Monday through Saturday, as well as evening hours Monday through Thursday at most clinic locations.
Our History
2023

February – Fargo, ND Clinic Open
January – Madison & St. Louis Park Clinics Open

2022

December – Acquired Morningsong Therapy
November – Appleton, WI Clinic Opens
October – West Des Moines, IA Clinic Opens
August – Fergus Falls Clinic Opens
June – Acquired Crossroads Counseling
May – Andover Clinic Opens
March – Crystal Clinic Opens
February – Cedar Rapids, IA Clinic Opens
January – Rochester North Clinic Opens

2021

December – Acquired LifeWorks & SteppingStone Therapeutic
November – Mendota Heights Clinic Opens
October – Cottage Grove Clinic Opens
September – Big Lake Treatment Center Opens
September – Hugo Clinic Opens
July – Duluth Mall Clinic Opens
July – Bemidji Clinic Opens
July – Red Wing Clinic Opens
June – Alexandria Clinic Opens
June – Hudson, WI Clinic Opens
May – Eau Claire, WI Clinic Opens
April – Stillwater Clinic Opens
April – Chaska Clinic Opens
April – LaCrosse, WI Clinic Opens
April – Nystrom expands to Wisconsin
March – Roseville Clinic Opens
March – Lakeville Clinic Opens
March – Hutchinson Clinic Opens
February – Acquired Psychiatric Associates Iowa
January – Blaine Clinic Opens

2020

December – Moorhead Clinic Opens
November – Edina Clinic Opens
November – Maplewood Clinic Opens

2019
2018

October – Rochester Clinic Opens
August – Minnetonka Clinic Opens
April – Cambridge Clinic Opens

2017
2015

October – Bloomington Clinic Opens
January – St. Cloud/Sartell Clinic Opens

2014
2013
2012

Telehealth Platform Launched

2012
2010

Adult Day Treatment Service Begins

2009
2008

Eden Prairie Clinic Opens

2006
2005
2002
2002

Apple Valley Clinic Opens

1997
1997
1993
1992
1991

Psychiatry Services Begin

1991

Brian & Mary Ann Nystrom create Nystrom & Associates, Ltd.