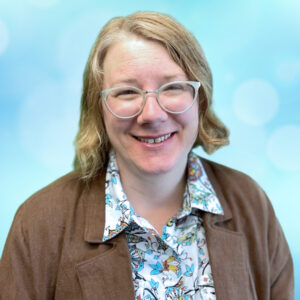 April Fleck
Outpatient & DBT Mental Health Professional
Year Joined: 2023
Years of Experience: 1
Education
Macalester College - BA
Saint Mary's University (December 2023) - MSW
Areas of Experience
Chronic Pain
Divorce
Grief & Loss
LGBTQIA+
More About April Fleck
Clinical Interests:
I have over 22 years experience helping clients with pain relief and stress management using bodywork, breath-work, and mindfulness skills. I have worked extensively with clients experiencing grief, divorce, chronic pain, and complex medical conditions. I identify as a cis-gendered straight, female but would like to share that I came of age in the LGBTQ+ community and have been a long-time advocate and ally. I serve this population as a Massage therapist. Non-binary and trans clients welcome.
Clinical Approach:
One of my guiding principles is that we all have to figure out how to live the most meaningful and full lives available to us. We all have to find our pivot point within the dialectics of acceptance and change. How do we accept ourselves just as we are while still bettering our inner and outer world? My approach includes coming to terms with the interplay of our personal strengths and weaknesses within a context of macro factors like racism, sexism, classism, and family.

Your sessions with me will include a combination of open-ended, nonjudgmental talk therapy to help you gain insight into your life, breathwork and mindfulness to manage stress, and cognitive behavior therapy and dialectical behavior skills to help you develop strategies to improve quality of life.

I have taken coursework in trauma with the goal of providing a safe space for you. Most importantly, you get to define what you experienced as traumatic and you get to decide how much you want to share with me and when. The bottom line is that you are the expert in your own life and our work together will be collaborative.
Hobbies:
I believe that maintaining hobbies and interests are key to mental health and well-being. That being said, I enjoy crossword puzzles, escape rooms, jigsaw puzzles, crochet, sewing, and hiking. My passion is musical theater and enjoying all of the great performances the twin-cities have to offer.