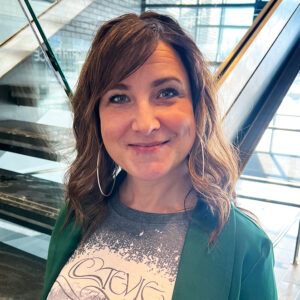 Jessica LaMotte
Outpatient Mental Health Professional LMSW
Year Joined: 2022
Years of Experience: 6
Education
University of Iowa - BSW
University of Northern Iowa - MSW
Areas of Experience
Addictions
Anxiety
Bipolar Disorder
Divorce
Family Therapy
Life Transitions
Panic Disorder
PTSD & Trauma
Relationship Issues
Self-Harm
More About Jessica LaMotte
Clinical Interests:
Veterans, first responders, adults, and families. Anxiety/panic, depression, trauma, addictions, relationships/divorce, self esteem issues, bipolar disorders, life transitions and personal growth.
Clinical Approach:
Holistic and humanistic therapy approaches.

I use various techniques to help the client better understand the connections between their body, mind, and relationships and how these elements play a role in mental health. I like to promote relaxation and help individuals better understand the reasons they feel unexplained bodily sensations related to their mental health. In addition to sensorimotor psychotherapy, I use various therapeutic approaches that best suit the individual or family such as CBT, person-centered and family systems therapy. In most cases, I begin with these traditional, psychotherapeutic techniques before moving on to other mind-body alternative therapies.
Hobbies:
I have a deep love for animals, I have to dogs and two cats. For most my life I have had no less than 3 pets in my house. I enjoy a wide range of music and use it for a majority of my self care activities. I have two amazing adult children and a 12 year old that I adore hanging out with. When the grass is green and the air is warm you will find me outside most of the time. When the air is frigid and wind is fierce I will be inside snuggling with the fur babies and watching some historical documentary on Netfilx or Prime.