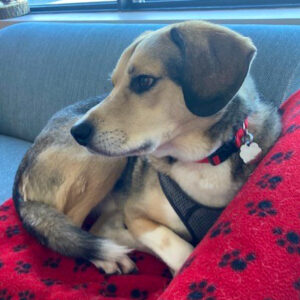 Raymond the Therapy Dog
Therapy Dog
Hello! I'm Raymond, a therapy dog here at New Brighton. I am an ATD (Alliance of Therapy Dogs) certified therapy dog. I work with provider Kathy Jurichko, to provide Animal Assisted Therapy to her clients.
I am a Beagle/Shephard mix and was born in 2017 in Kentucky, and brought to Minnesota by Safe Hands Rescue and adopted by Kathy when I was about 4 months old.
I have completed trainings with TCOTC (Twin Cities Obedience and Training Club) and Kathy has completed therapy dog handler's courses through Pet Partners.
I look forward to meeting you!