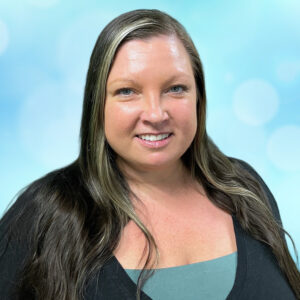 Shenna Manteuffel
DBT Therapist LMFT
Year Joined: 2013
Education
UW River Falls - BS
Argosy University - Master's in Marriage and Family Therapy
Certification
Prolonged Exposure Trained Clinician
More About Shenna Manteuffel
Clinical Interests:
My experience is working with adolescents, young adults and adults who are coping with a mental health disorder and/or a co-occurring disorder. I have a deep understanding of mental health issues and addiction as well as how these disorders interact. I also have a systemic view on change and love working with relational issues. My specialty is working with adolescents, adults, and families mostly in the DBT program. I do some outpatient therapy not in the form of DBT but primarily see adults and adolescents in the DBT program. I also have several years and a background working with Substance Use Disorders in an intensive SUD outpatient treatment program here at Nystrom. I also have a passion for treating trauma and am highly trained and experienced in Prolonged Exposure trauma treatment.
Clinical Approach:
In my clinical approach I use primarily a Cognitive Behavioral approach, in which Dialectical Behavioral Therapy is based upon. There is a dialectical approach added to CBT that helps form different perspectives and flexibility in thought patterns. This approach also helps with finding the necessary balance of change and acceptance within the treatment process. I am highly trained and experienced with using Motivational Interviewing along with a 12 step process when treating substance use disorders (can do treatment with and without 12 step programming). I also have 3+ years in the treatment of trauma in the form of Prolonged Exposure treatment.
Hobbies:
I enjoy doing outdoor activities such as hiking, camping and kayaking. I also love to travel and find relaxation in reading a good book. I also like to stay active by working out and kick boxing. I love spending quality time with friends, family, and my pets.