Play is a fun and enjoyable activity that increases our life experience and brightens our outlook. It expands our self-expression and connects us to others. Play can expand the way we think, our creativity, and allows us to practice the skills and roles needed in life. Play Therapy utilizes the way children communicate. The child uses the toys as their words and the play is the language. In sessions, the child develops a healthy and positive relationship with the therapist following for the child to express themselves in a non-threatening manner. It also empowers children to resolve their own problems by expressing their struggles through themes and patterns. The therapist recognizes these themes and offers intervention to aid the child.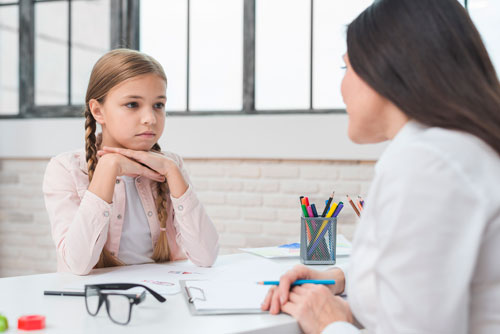 Frequently Asked Questions
Children confronting problems and negative emotions in a clinical setting allows them to change the way they think and feel, which leads to discovering solutions. Play therapists are uniquely trained to assess and understand the contents of children's play. Play therapists use their understanding of the play to increase children's coping skills. In the playroom, under the guidance of a trained play therapist, children can safely discuss their problems in a protected play environment. Children learn to confine, define, and master their problems.
Children's problems sometimes emerge as a signal that the family is in crisis and other times the child's issues become a disruption to the family system. Yes, parents are a vital part of the therapeutic process. Families are an important part of the child's healing processes. Parents meet with the therapist on a regular basis. When meeting with parents the therapist discusses a plan for therapy, identifies areas for resolution, progress in treatment as well as provides support for parents. Healing increases when the children and the family work together.
Take responsibility for their behavior
Come to understand the impact (cause & effect) of their behaviors
Replace inappropriate behaviors with more effective & successful behaviors
Develop creative & lasting solutions to problems
Gain greater acceptance of self & others
Strengthen family relationships
Work through hurt and trauma
Improve social skills
Divorce Recovery
Sexual Abuse
Physical and Verbal Abuse
Post Traumatic / Stress Disorder
Defiant Behaviors
Divorce
Reactive Attachment Issues
Depression
Anxiety
Grief and Loss
Domestic Abuse
Neglect
Phobias
Child and Family Therapy Availability
We offer services Monday through Friday and on Saturdays at some locations, as well as evening hours Monday through Thursday. All locations offer this service, either through in-person or online appointments.
We accept all insurances including medical assistance and other state health plans. A reduced rate for uninsured private pay patients is available. Forms for this program can be found on our Patient Forms page by clicking here.