What is School-Based Therapy?
School-Based Therapy is a program in which Nystrom & Associates places clinical mental health providers at a community school to provide therapeutic services to students who have a mental health diagnosis. Therapists will collaborate with teachers, school social workers, and staff to aid the student in working towards their individual goals.
The school-based therapist works with all students who qualify for mental health services. They do not need to be receiving special education services or have an individualized education plan (IEP). Guardian involvement is encouraged and recommended.
Benefits of School-Based Therapy
Promotes improved psycho-social health and school success in students
Removes barriers such as transportation and scheduling difficulties, providing greater accessibility for families to receive mental health counseling
Allows for students to work with therapists in the environment they often struggle the most; school
Leads to increased communication between the family and school
Students experience more academic and social support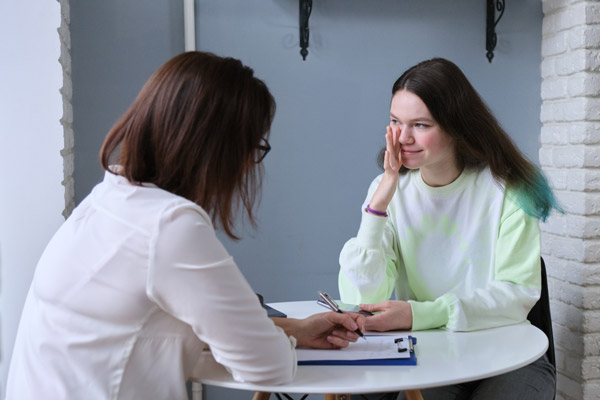 Individuals/families who have qualifying insurance (our office will verify this for the client)
Students who are experiencing symptoms of depression, anxiety, or another mental health concern
Students with behavioral problems in the classroom
Students who have received a referral from the school social worker for mental health services
In the summer months, school-based therapy can continue and therapists have the flexibility to meet with students at their home, school, or community locations to continue services.
Referrals are sent to the school-based therapist through identified school staff members. If you are interested in having a student see one of NAL's school-based therapists please contact your school principal or social worker. When a student has been referred for school-based mental health services the guardian meets with the therapist to establish a need for services, create a routine schedule, and recommend any additional services that may be helpful to the family.
School-linked mental health services are provided by a student's in-home Children's Therapeutic Services and Supports (CTSS) worker. The CTSS worker can work with the student at home, school, and community locations to help them learn to reduce any negative impacts their mental health diagnosis is having on their ability to function as normally as possible. Nystrom & Associates serves students through school-linked mental health services in over 100 schools throughout the state of Minnesota.
School-Based Therapy Locations
We accept all insurances including medical assistance and other state health plans. A reduced rate for uninsured private pay patients is available. Forms for this program can be found on our Patient Forms page by clicking here.